Effective patient-provider communication is critical to positive outcomes for hospitalized patients. When patients face barriers to communication, they are at a higher risk of experiencing a preventable adverse event. They are more likely to experience higher stress and be less satisfied with their care. Hospitals can successfully reduce their patients' communication barriers by promoting an institutional culture of communication.
The Joint Commission's hospital accreditation standards require hospitals to establish a range of care standards that value patients' ability to express themselves and to be able to be active participants in their care. Such care standards should lead hospital staff to continually assess their patient's ability to summon help to effectively communicate and to be able to implement the appropriate communication strategies and tools. This dynamic assessment and intervention process can be built into care flowsheets that relate to a patient's ability to summon help and communicate.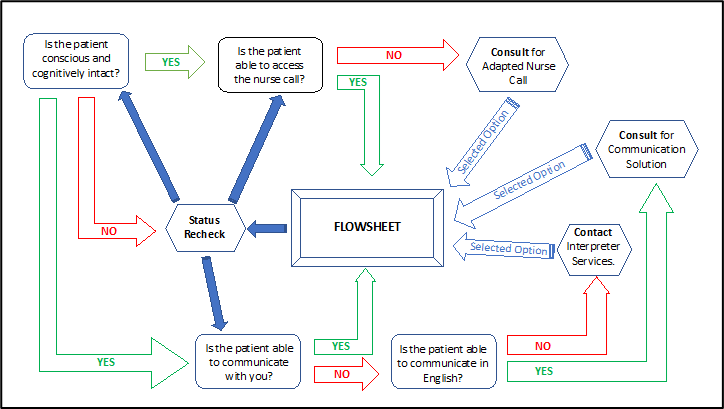 The hospital's nursing staffs are the primary bedside caregivers and the most likely to be assessing whether the patient can independently use the nurse call and whether the patient is able to communicate with the staff. It is therefore important that nurses are able to order consults from the appropriate departments when their patients face access and communication barriers. 
To meet patients' nurse call access needs, the hospital should have a range of assistive technology alternatives to the standard nurse call pendant and identify who in the organization is responsible for supporting the alternative nurse call technology. The decision process about what alternatives should be made available needs to be informed by an interdisciplinary team of nurses, occupational therapists, and speech-language pathologists. Voxello's noddle switch can make accessing the nurse call system possible for patients who might only be able to produce a tiny intentional gesture with some part of their body.
To address the communication needs of patients who have limited English proficiency (LEP), hospitals must provide translations of written materials and ensure that interpreter services are available to support bedside conversations between patients and their care providers. Hospitals may either have certified medical interpreters on staff or use remote interpreter services via telephonic or video links. It is critical that everyone interacting with a patient with LEP be aware of the need to use the appropriate tools to ensure that the patient understands the caregivers and that the caregivers understand what the patient is trying to communicate. Having bilingual communication tools like Voxello's bilingual noddle-chat or low-tech bilingual communication boards can be useful in supporting emergent communication at the bedside. Again, the key is that the entire care team, not just the patient's nurse be aware of how to communicate with the patient.
When patients are unable to communicate because of a physical barrier that prevents them from speaking or being able to write, hospitals should be able to provide a range of alternative and augmentative communication tools. Low-tech communication boards are useful to assess pain and to allow patients to express a few basic needs but not much more. The hospital's speech-language pathologists should be consulted to determine whether providing the patient with a speech prosthetic or a speech-generating device like Voxello's noddle-chat tablet is appropriate.
Achieving a high-fidelity implementation of any care standard requires the training of all hospital personnel who will be caring for and interacting with patients. Clinical practice has shown that in addition to basic pre-service and in-service training it is important to make just-in-time training available. When individual nursing staff members and speech-language pathologists embrace the notion of a "culture of communication, they can serve as champions to support others on the care team to more effectively engage in bidirectional communication with their patients. Working with nurse educators and speech-language pathologists, Voxello has developed a range of training materials (https://voxello.com/education-training/).
You can find out more about how Voxello supports patient-provider communication by visiting www.voxello.com.